LCGS Speaker & Topic | Meeting Date: Tuesday, 22 Oct 2013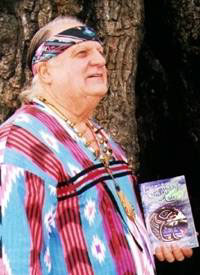 Cowlitz Leader to Speak at Genealogical Society Meeting
Roy Wilson, spiritual leader of the Cowlitz Tribe, will be guest speaker at the Tuesday, Oct. 22, meeting of the Lewis County Genealogical Society.
Wilson is expected to focus his program on the Cowlitz Landing, the heritage of Toledo and other Toledo events.
Roy, whose Indian name is Itswwot Wawa Hyiu (Bear Who Talks Much), was born on the Yakama Indian Reservation from an Indian father and non-Indian mother. He lives in Chimacum with wife, Cherilyn.
He served 32 years on the Cowlitz tribal council, as chairman of the General Council in the 1970s, and, in the latter years, as chairman of the Tribal Council. Much of his time is spent in colleges, universities and churches teaching about the Medicine Wheel.
Among his published books are: "Medicine Wheels — Ancient Teachings for Modern Times," "The Gospel According to Matthew — A Longhouse Version," "Native American Annotated Bibliography," "Voices From the Earth Mother" and "Historical Overview of the Cowlitz Tribe."
Meeting is at 7:00 pm at the PUD Auditorium at 345 NW Pacific Ave., Chehalis.