LCGS Speaker & Topic | Meeting Date: Tuesday, 17 March 2015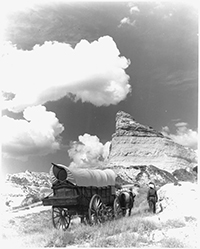 March 17, 2015 HAPPY ST. PATRICK'S DAY
Steve Morrison will be the speaker.
The topic will be the Oregon Trail.
Steve was an active hobby genealogist for over two decades before becoming a professional speaker in 2006. He's traveled to Ireland five times to research Irish Quakers, and is a graduate of eight genealogical institute programs. He holds a Bachelor of Science with honors from Western Washington University, and a Masters of Public Administration from The Evergreen State College where he taught as an adjunct faculty for seven years. His areas of interest are: Genealogical Education, Quakers, Ireland, and the Oregon Trail.

Meeting is at 7 pm with doors open at 6:45 pm at
St. John's Lutheran Church, 2190 Jackson Hwy,
Chehalis, WA 98532