LCGS Speaker & Topic | Meeting Date: Tuesday, 19 May 2014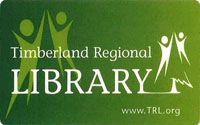 Library Cards: Keys to Research @ Home
by Jim Johnson
You won't want to miss this class!! Several HQRL librarians have previewed the materials and are excited about what Jim has uncovered.
Jim will identify the invaluable databases available from various libraries throughout the Puget Sound region. He will provide the exact path to be followed to access each libraries' online databases which you can access while you sit comfortably in your easy chair at home. It is amazing what is available for free when you obtain these library cards.
TRL has reciprocal borrowing agreements with the following library systems.
Fort Vancouver Library System (Clark, Klickitat, Skamania Counties, the City of Woodland, and Yale Precinct in Cowlitz County, except residents of Camas)
Jefferson County Library
King County Library System (Hunts Point, Yarrow Point not eligible)
Kitsap Regional Library (Kitsap County)
Longview Public Library (Must show your Longview Public Library card to get a TRL card; must show your TRL card to get a Longview card)
North Central Regional Library (Okanogan, Chelan, Douglas, Ferry, Grant Counties) (Conconcully, Hartline, Marlin, Nespelem, Rock Island not eligible.)
North Olympic Library System (Clallam County)
Pierce County Library (Carbonado, Fircrest, Puyallup, Roy, Ruston, Tacoma not eligible)
Puyallup Public Library
Seattle Public Library (Must show your Seattle Public Library card to get a TRL card; must show your TRL card to get a Seattle card)
Sno-Isle Regional Library (Snohomish, Island Counties) (Everett, Woodway not eligible)
Whatcom County Library
Meeting is at 7 pm with doors open at 6:45 pm at St. John's Lutheran Church, 2190 Jackson Hwy, Chehalis, WA 98532