LCGS Speaker & Topic | Meeting Date: Tuesday, 21 October 2014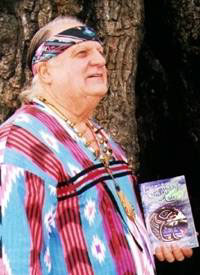 October 21, 2014 –Roy Wilson, Honorary Chief
and a Spiritual Leader of the Cowlitz Tribe, will
return to talk to us about the Cowlitz Tribe.
Roy's Indian name is Itswoot Wawa Hyiu meaning
"bear who talks much" and how we loved listening
to him talk about the Cowlitz people!
Roy is an enrolled member of the federally recognized
Cowlitz Indian Tribe. He has Cowlitz, Chinook,
Yakama, and Iroquois blood. His credentials are
extensive. Bring your questions a guest for an
enjoyable evening. Roy will bring his books to sell
after the presentation ends.

Meeting is at 7 pm with doors open at 6:45 pm at
St. John's Lutheran Church, 2190 Jackson Hwy,
Chehalis, WA 98532