LCGS Speaker & Topic | Meeting Date: Tuesday, 21 May 2013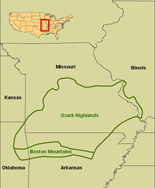 Guest speaker, Jim Johnson, Director of Heritage Quest Library titled his program "Genealogical Research in the Ozarks". Will show us how to find and use the records that were created by our ancestors who lived in a small region of our country in parts of Missouri and Arkansas known as the Ozark Mountains.
If you do not have an ancestor who came from this area, never fear, these same methods can be used to find records in any geographic region of the country. Everyone should benefit from this presentation.
Jim will also be bringing the HQRL "Books on the Road" featuring the latest in genealogical books and supplies.
Meeting is at 7:00 pm at the PUD Auditorium at 345 NW Pacific Ave., Chehalis.