Cemeteries of Lewis County | Chehalis
Chehalis
Claquato Cemetery

Chehalis WA, 142 Stearns Road PO BOX 1443, west of Chehalis; early dates to 1852. claq-a.txt | claq-b.txt |claq-c.txt | claq-d.txt | claq-eg.txt | claq-hl.txt | claq-mq.txt | claq-r.txt | claq-s.txt | claq.tz.txt

Deskins Family Cemetery
1855 North Fork Road, Chehalis WA, Jim Deskins property; currently 15 family burials.
Dryad Cemetery
(AKA Doty-Dyrad Cemetery); Lewis County Cemetery Dist. #3, 1 mile NW of Dryad, Chandler Road, 1st burial 1895; plotted 24 July 1900.
Fern Hill Cemetery
Orginally Phillips, later Urquhart Cemetery; corner of Ribelein Bishop Roads, Chehalis WA; created 1885, dedicated 24 January 1893.
Greenwood Masonic Cemetery
Chehalis, WA; created 14 August 1891; plotted 1898; last burial in 1975, estimated 500 burials and only 200 marked graves.
Jackson Cemetery
Mary's Corner, WA; created - Mrs. Jackson's children by previous marriage, Felix G. Koontz 7 December 1855, Henry M. Koontz 1 June 1857, only stones left, others destroyed.
Newaukum Hill
From Interstate 5, take Exit 77. Go west on Highway 6 and take a quick left turn on Riverside Road - it starts just past the southbound onramp to I-5. Riverside road changes to Newaukum Road and then to Shorey Road - take a right turn onto Devereese Road. Go up the hill on Devereese Road for 6/10 of a mile to the end of the road. The Newaukum Hill Cemetery is on your right behind the fence. The earliest burial found is 1886.
Sunset memorial Gardens
See Claquato Cemetery; aka Odd Fellows Cemetery; Chehalis, WA 142 Stearns Road PO BOX 1443; dedicated 11 July 1923.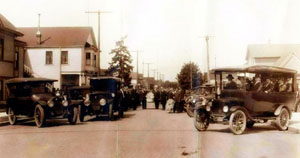 Special Note: Some cemeteries have more than one name, so please be sure to check under all possible names. We have tried to cross-reference these ones by adding A.K.A. (also known as).
To read about more Lewis County Cemeteries - select towns from list on the right >>
Washington State USGenWeb Project
In March and April, 1996, a group of genealogists organized the Kentucky Comprehensive Genealogy Database. The idea was to provide a single entry point for all counties in Kentucky, where collected databases would be stored. In addition, the databases would be indexed and cross-linked, so that even if an individual were found in more than one county, they could be located in the index.
At the same time, volunteers were found who were willing to coordinate the collection of databases and generally oversee the contents of the web page. The Washington Gen Web Project is part of the USGenWeb Project, an extension of the KY Gen Web Project.
The County Coordinator for Lewis County is Jenny Tenlen