Cemeteries of Lewis County | Mossyrock
Mossyrock
Doss Cemetery
Lewis County Cemetery Dist. #2; Mossyrock, WA, from Mossyrock-Highway 12 intersection, you head north and immediately on your left Coleman Rd takes off west and winds up the hill to the cemetery; created 1908.
Dunn Cemetery
(AKA Harmony Cemetery); Lewis County Cemetery Dist. #2; Mossyrock, WA, south of Hwy 12, where Larson RD comes into Hwy 12, 1 ½ miles east of Mossyrock sign by a gate, must go through to follow lane about 1/8 of a mile into cemetery; created 1908, some burials as early as late 1800's.
Klickitat Cemetery
(AKA Hendricks Cemetery); original family cemetery, then I.O.O.F. Mayfield joined; Hendricks is Section 1 and I.O.O.F. Mayfield is Section 2 of Klickitat Cemetery, Lewis County Dist. #2; Mossyrock, WA, east on Hwy 12, turn right at DeGoede's Bulb Farm, road slants SE towards Mossyrock, a short distance from DeGoede's is the large cemetery on the right; created 1871.
St. Yves Catholic Cemetery
Harmony, WA; Mossyrock-Hwy 12 intersection, go north on road about a mile, cross an "arm" of Mayfield Lake, road begins to wind up hill, Church on left, cemetery is behind the church, privately maintained by the church; Church burned summer of 1989, has been rebuilt; created 1914.
Riffe Cemetery
Now flooded by Riffe Lake; had been located east of Riffe; most graves moved to Doss Cemetery, Mossyrock, a few to other locations. Cemetery records were burned at turn of century (1900). Chehalis Timberland Library and Lewis County Historical Museum have some lists. Riffe Cemetery, Lewis County, WA
Smith Cemetery
3 miles east of Riffe, located on Bill aIrish land; flooded by Riffe Lake; about 30 graves moved to Doss Cemetery, Mossyrock, WA. Chehalis Timberland Library has list. USGenWeb Project - Smith Cemetery, Mossyrock, WA.
Swofford Cemetery
Lewis County Cemetery Dist. #2; Mossyrock, WA, follow Mossyrock road east to Swofford, follow Swofford to Perkins Road "T", turn left on Green Mountain Rd, cemetery is on the hill at the end of Harrington Rd; created 1892. Cemetery Views - Pictures.
Tilton River Indian cemetery
Now covered by Mayfield Lake; 31 Indians from this site were moved to the Dunn Cemetery.
Wilson Pioneer Cemetery
(AKA Owrey Family Cemetery); 156 Koons Rd, Mossyrock, WA on private land, follow Winston Creek Rd into Salmon Creek Rd, at "T", turn right on Koons Rd, take logging road immediately on right after seeing the mailbox 156, follow road to cemetery; created 1890.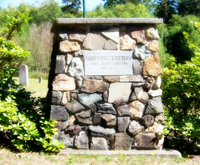 Special Note: Some cemeteries have more than one name, so please be sure to check under all possible names. We have tried to cross-reference these ones by adding A.K.A. (also known as).
To read about more Lewis County Cemeteries - select towns from list on the right>>
Washington State USGenWeb Project
In March and April, 1996, a group of genealogists organized the Kentucky Comprehensive Genealogy Database. The idea was to provide a single entry point for all counties in Kentucky, where collected databases would be stored. In addition, the databases would be indexed and cross-linked, so that even if an individual were found in more than one county, they could be located in the index.
At the same time, volunteers were found who were willing to coordinate the collection of databases and generally oversee the contents of the web page. The Washington Gen Web Project is part of the USGenWeb Project, an extension of the KY Gen Web Project.
The County Coordinator for Lewis County is Jenny Tenlen