Cemeteries of Lewis County | Salkum
Salkum
Mt. Hope Cemetery
Most likely New Hope section of Salkum Cemetery has been confused with Mount Moriah section of Salkum Cemetery.
Mt. Moriah Cemetery F.A.M.
Now part of Salkum Cemetery; created by Robert Morris Lodge, Silver Creek, 21 December 1929.
Salkum Cemetery
(AKA New Hope/Mt. Moriah/Mt. Hope); Lewis County Cemetery Dist. #2; south of Salkum, WA, turn right on Wilcox Rd, follow past church to cemetery; previously parts were named Amt. hope Assn. Cemetery and Mount Moriah; Mt. Moriah was at the far end of the cemetery, first burial 1900; first burial at Mt. Hope was 1886.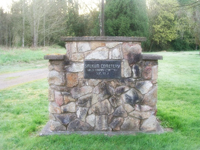 Special Note: Some cemeteries have more than one name, so please be sure to check under all possible names. We have tried to cross-reference these ones by adding A.K.A. (also known as).
To read about more Lewis County Cemeteries - select towns from list on the right>>
A little history: SALKUM is an Indian word meaning "boiling up" which refers to a series of waterfalls in a nearby stream first called Salkum Creek (now called Mill Creek).
Washington State USGenWeb Project
In March and April, 1996, a group of genealogists organized the Kentucky Comprehensive Genealogy Database. The idea was to provide a single entry point for all counties in Kentucky, where collected databases would be stored. In addition, the databases would be indexed and cross-linked, so that even if an individual were found in more than one county, they could be located in the index.
At the same time, volunteers were found who were willing to coordinate the collection of databases and generally oversee the contents of the web page. The Washington Gen Web Project is part of the USGenWeb Project, an extension of the KY Gen Web Project.
The County Coordinator for Lewis County is Jenny Tenlen